We are pleased that you have decided to study the Mannheim Master in Business Research (MMBR) at our University. To make the start of your studies as easy as possible, we have compiled all relevant information regarding your first days with us on this page.
Prof. Dr. Dieter Truxius, Dean of the Business School / Photo: Siegfried Herrmann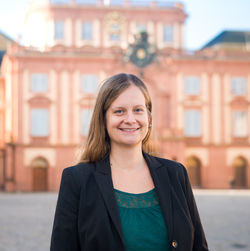 As soon as you receive your rum user account (access data) our learning system ILIAS will provide all important information such as the course offer or registration deadlines. If you have further questions, please feel free to contact me.
Julia Dreisbach, Program Manager MMBR / Photo: Felix Zeiffer
We from the student committee look forward to meeting you at the events during orientation week. If you would like to join us after settling in, feel free to contact us.
Felix Grävinghoff, President of the student committee Business Administration / Photo:Marten Gillwald / Photo credit: Marten Gillwald
Important information for a successful start
Study Counseling Mannheim Master in Business Research (MMBR)
Consultation hour(s):
by phone Wed 1:30 p.m. – 2:30 p.m. and Thu 9:00 a.m. – 10:00 a.m.