Mannheim Master in Management
Become a manager within four semesters!
Be flexible in your studies at one of the most renowned business schools in Germany. Enjoy the international study atmosphere and profit from the practical orientation and extensive partner network.
I really appreciate the flexibility of the MMM to include a semester abroad and an elective. Moreover, I enjoy the possibility of getting in touch with many different companies through guest lectures and workshops.
Wibke John, MMM student / Photo: Felix Zeiffer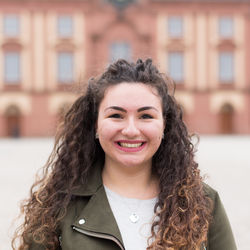 After already completing my Bachelor's in Business Administration here, I returned to Mannheim for the MMM. I think the MMM is unique in its variety and quality nationwide. As a state university, Mannheim is able to compete with private business schools worldwide. The value for money is perfect!
Cristina Solaro, MMM student / Photo credit: Xenia Münsterkötter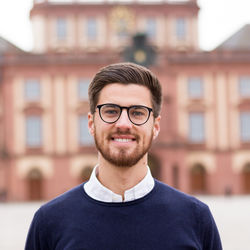 At the MMM I like the quality and variety of the lectures as well as the proximity to renowned companies. In addition, Mannheim is the perfect city to live due to its size, where everything is available and at the same time quickly reachable. The interaction between the students is excellent and I would choose the MMM at any time.
Artur Hahn, MMM student / Photo credit: [Englisch] Xenia Münsterkötter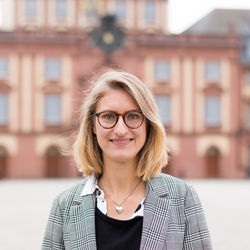 The MMM convinced me in particular through its freedom of choice. Every student can personalize his or her curriculum. I have been concentrating on Accounting and Operations Management so far and I am very happy with it.
Pia Löffler, MMM student / Photo credit: Xenia Münsterkötter
Duration and start of study: 4 semesters (full time), annually in fall
Language of instruction: mixed German and English track or 100% English track (no German language skills required), decision to be made during application process
Possible specializations: Accounting & Taxation, Finance, Information Systems, Management, Marketing, Operations Management
Application period: March 15 - May 31 (bewerbung.uni-mannheim.de). All required documents must be submitted by May 31 at the latest
Admission requirements: undergraduate degree, at least 36 ECTS in business administration, GMAT (min. 600 points, program code VLC-95-04) or equivalent GRE result, no NC, no english language test required
Further selection criteria: semester/ study abroad, practical experience
International perspective: semester abroad, double degree programs
Study contents: module catalog 2018 (module catalogs 2011-2017)
Tuition fees (fall 2018): Administrative fee of 160.40 Euro and tuition fees for non-EU/EEA applicants (1500 Euro) or a second German Master's degree (650 Euro)
Download: program brochure
Before you hand-in your master's thesis at the end of your studies, you can freely choose lectures and seminars according to your personal preferences. Apart from five core courses (Business Economics I and II, Decision Analysis, Corporate Social Responsibility and Applied Econometrics or Empirical Methods), you have the flexibility to create your individual schedule. Next to courses being offered each year or each semester, there is a changing variety of themed courses that are taught by our professors or international guest lecturers. You can find all of them in the module catalog.
If you are still unsure if the MMM or the MMBR is the better choice for you, have a look at the comparison of our programs.
Your profile

General interest in business interrelationsships and the ability to work with discipline and independently provide a solid basis for successful studies. The following requirements need to be fulfilled for your complete application that should reach us until May 31 at the latest:

Please consult our statute for important details.

To increase your chances of admission, you should bring along (very) good bachelor grades, a high GMAT test result, a semester abroad or an international degree, and practical experience.

How to apply

You can apply online from March 15 to May 31. Decide for a degree course (German-English or 100% English track), enter your personal data and send us your application. Proof of practical experience must include duration and exact job description. Preliminary certificates cannot be considered. For more help please click here.

How to learn about your admission

Four to six weeks after the application deadline, you will receive notice via e-mail that your application outcome is available in the online portal. Please log in to access the notification. In case of admission, you will also find your enrolment documents as well as important information on your first days in Mannheim in the portal. Orientation events take place in the week before lectures start. After having attended them, you will be able to create your study plan using the module catalog and familiarize yourself with the examination statutes.
If you would like to make an appointment for individual study counseling at the Dean's Office, just sign into our online calendar.
Semester break starts on December 18. From February on you can reach us again by telephone or you can book an appointment. In the meantime, we are happy to answer your questions via email.
If you sign up for our study counseling, we assume that we are allowed to use your data for the coordination of your appointment.
Study Counseling Mannheim Master in Management (MMM)
Consultation hour(s):
by phone Wed 1:30–2:30 p.m. and Thu 9:00–10:00 a.m.