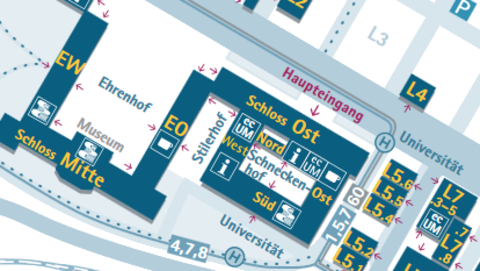 The Dean's office of the University of Mannheim Business School is located in the "square" L5, number 5, next to the "Schloss" of Mannheim.
Traveling by Bus and Train
Mannheim main station is a transportation hub in the immediate vicinity of the University of Mannheim. To get to the university, you can take tram lines 1, 2, 4a, 5, 5a, 6, 6a, and 15, or bus route 60 to the stations Schloss. From there it is just a few minutes' walk to the our Dean's office building in L5, 5.
The Rhein-Neckar-Verkehr GmbH (rnv) runs the local public transport system. Visit their website.
Walking from Mannheim Main Station
The walk from the station to the Dean's office building (L5, 5) takes around five minutes.
Map of the Campus (PDF)
Traveling by Car
You can reach the university by taking the A6 highway, and exiting at Mannheim Mitte. Take the B37 and follow it past the Planetarium and then turn left following the sign indicating Universität. Once you have passed Mannheim main station, you are on Bismarckstrasse, which leads you directly past the palace and the Dean's Office (L5, 5). Unfortunately, the University of Mannheim does not have a visitor's car park. We recommend using the parking lot underneath the Mensa.
Traveling by Plane
Mannheim has a regional airport, which has direct flights to and from Berlin and Hamburg. The nearest international airport is in Frankfurt. High-speed train connections from the airport mean that you can reach Mannheim in 30 minutes.